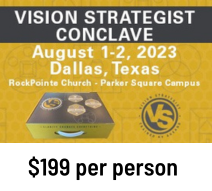 Your conclave attendance will allow you to...
Experience the synergy of gathering with other vision strategists serving the local church

Access a whole new library of updated process tools and clarity first resources

View all-new tools as well as preview a brand new process training: Vision Leading

Learn and be inspired by thought leaders around culture building and church multiplication

Network with like-minded leaders to sharpen irons and grow in service to the Church

Get the latest Vision Strategist swag featuring an all-new look!
Conclave Schedule (all times CDT)
Tuesday, August 1  - 1 p.m (start) - 5 p.m.

Texas BBQ Dinner (provided) to follow 

Wednesday, August 2 - 8 a.m. to 11:30 a.m.
Cost
$199 per person if you register after June 30

Includes dinner Tuesday 

Travel and all other meals not included